strengthening families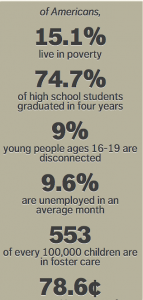 Perhaps the most important finding from the report is that we have both the experience and the policy tools necessary to cut poverty in half.
Between 1964 and 1973, under both Democratic and Republican administrations, the U.S. poverty rate fell by nearly half (43 percent) as a strong economy and effective public policy initiatives expanded the middle class.
Similarly, between 1993 and 2000, shared economic growth combined with policy interventions such as an enhanced earned income tax credit and minimum wage increase worked together to cut child poverty from 23 percent to 16 percent.
We can't do this alone.
More than the primaries, general election, board meetings, or the budget fight on Capitol Hill, this past week was a high-intensity roller coaster for me. It was Little League playoffs.