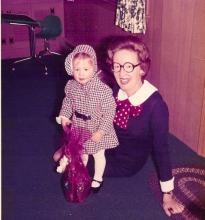 "My mother... she is beautiful, softened at the edges and tempered with a spine of steel. I want to grow old and be like her." ~ Jodi Picoult

When asked to describe my mother, Helen, my usual answer is: Queen Esther in espadrilles and a matching purse.
Esther comes to mind when I think of Mom because she was fiercely loyal, smart, determined, brave and deeply faithful. The sartorial descriptors capture my mother's somewhat less spiritual side – always put together with a classic sense of style (although these days she leans more toward head-to-toe matching ensembles from Chicos and alligator flats, now that her penchant for wearing pointy-toed heels in the '60s and '70s have caught up with her poor feet.)
Mom has impeccable style and staggering grace, particularly in the midst of trials and tribulations. She is flinty (think Katharine Hepburn) and has an abiding, deep-in-her-DNA faith [think St. Therese of Liseux.]
Helen is a force with which to be reckoned and woe to you who would make the mistake of messing with anyone she loves.