St. Louis Cardinals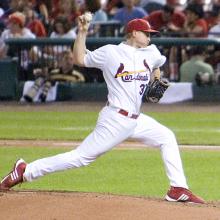 There's controversy at the mound at Busch Stadium, and it has nothing to do with who's pitching for the St. Louis Cardinals.
Last month fans started seeing a cross etched into the pitcher's mound at the stadium. Since then, the club has asked that the etchings stop.
"It is not club policy to put religious symbols of any type on the field or in the ballpark. When we became aware of this practice, we asked that it stop so that it would not be confused as an official expression of the club," the Cardinals organization said in a statement.