St. Ignatius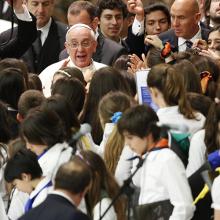 Figuring out why Pope Francis has upended so many expectations and what he might be contemplating for the future of the Catholic Church has become a parlor game almost as popular as the pontiff himself.
A single key can unlock these questions: Francis' long-standing identity as a Jesuit priest.
It's an all-encompassing personal and professional definition that the former Cardinal Jorge Bergoglio brought with him from Buenos Aires, and one that continues to shape almost everything he does as pope — even though he is the first pontiff to take his name from the 13th century Italian monk from Assisi who was famous for living with the poor and preaching to the animals.
"He may act like a Franciscan but he thinks like a Jesuit," quipped the Rev. Thomas Reese, a fellow Jesuit who is a columnist for National Catholic Reporter.
"Do you think he'll sing?" the girl in the row behind me wondered aloud.
"I hope so," the young fellow beside her said before continuing, "My dad would freak. He was a big fan of U2 when I was growing up. He used to play this one album, The Joshua Tree, over and over again."
His father was a fan.
I am a thousand years old, I thought to myself, as more Georgetown students filled the seats around me at the university's 111-year-old Gaston Hall, the main lecture hall on campus named after Georgetown's first student, William Gaston, who later served as a member of the U.S. Congress.
The hall, decorated with stunning art-deco-era frescos and the crest of every Jesuit institute of higher learning, has hosted many dignitaries over the years, including Presidents Obama and Clinton, Vice-President Al Gore, Secretary of State Hillary Rodham Clinton, and Supreme Court Justice Antonin Scalia, to name but a few.
"So if he's not going to sing, is he just going to talk," another student asked, with a distinct whiff of disappointment in his voice.
"I hear he's an awesome speaker, though," still another student said.
The students who packed the auditorium, many of them from Georgetown's Global Social Enterprise Initiative at the McDonough School of Business and more than a few donning black t-shirts with the insignia of the ONE Campaign (of which Bono is a co-founder), weren't sure what to expect from the famous Irish rock star and humanitarian.
A concert? A lecture? Another boring speech?
I'm fairly certain none of the students present for Monday night's event, sponsored by the Bank of America and The Atlantic magazine, anticipated hearing Bono, the 52-year-old lead singer of U2, preach.
But preach he did.