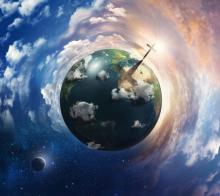 Tripp Hudgins touched on something in his post yesterday that is essential to this discussion about Rob Bell and his book What We Talk About When We Talk About God. He wrote:
Why does Rob write this stuff? Whose side is he on? Yours. Mine. Ours … Rob is on everyone's side. He's trying to live like the God who meets him when he's surfing, hanging with his kids and friends, walking along the city streets, or doing just about anything.
Tripp, how can you say such a thing! "Rob is on everyone's side"? How could Rob possibly be on the side of those who ruthlessly criticize him?!? I'm sorry my friend, but that's just ridiculous and absurd.
And yet the ridiculous and absurd is at the heart of the Christian message. I hope that Rob is for everyone. Not because I need Rob to be on my side, nor because I need his approval or acknowledgment. (Although, I wouldn't mind it!) Rather, I hope it's true because at the heart of the Christian message lies the ridiculous, absurd, and even scandalous message that God is for everyone.