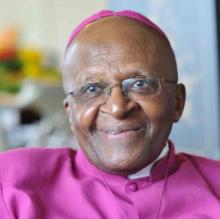 Desmond Tutu, the former Anglican archbishop of Cape Town, South Africa, who won a Nobel Peace Prize for his battle against apartheid, has won the 2013 Templeton Prize, which is billed as the most significant award in the field of spirituality and religion.
Tutu, who has not been afraid in recent years to criticize leaders in his country and across Africa for humanitarian and political shortfalls, was cited for his work in advancing the cause of peace and the spiritual principles of forgiveness.
"By embracing such universal concepts of the image of God within each person, Desmond Tutu also demonstrates how the innate humanity within each of us is intrinsically tied to the humanity between all peoples," Dr. John M. Templeton, Jr., the president and chairman of the John Templeton Foundation, said in a video statement released Thursday announcing the $1.7 million award.