special prosecutor
This week has been stunning. Every day there is more stark evidence of White House lying, led by the president himself, and it is compromising the integrity of all the people around him. Direct lies and contradictions appear one after another. And when the president of the United States, and the people around him are lying all the time, including the vice president, it puts the nation in grave danger. It suggests cover up and makes thorough and fair investigations more important than ever. Unless the truth is found and told, this is a danger to democracy.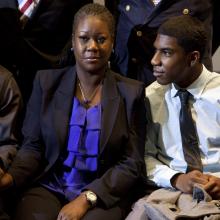 Authorities in Florida have charged George Zimmerman, 28, with 2nd-degree murder in the shooting death of unarmed Trayvon Martin, 17, in Sanford, Fla., in late February.
The charges, announced by special prosecutor Angela Corey, at a news conference in Jacksonville, Fla., Wednesday evening, come six weeks after Zimmerman, a self-appointed community watch "captain" in a gated Sanford community where Trayvon was visiting his father on Feb. 26, shot the teen -- who was armed only with a cell phone, a can of iced tea and a packet of Skittles -- in what the shooter claimed was self-defense under Florida's "Stand Your Ground" law, which allows victims to use deadly force against an attacker if they believe their lives are in danger.