Southern Baptist Ethics & Religious Liberty Commission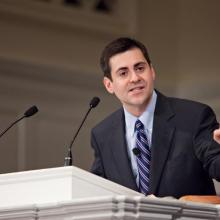 Russell Moore may be president of the Ethics & Religious Liberty Commission of the Southern Baptist Convention. But don't call him an evangelical — at least not until the current election cycle ends.
Moore started introducing himself as a "gospel Christian" a few weeks ago. That's because, he said, "The word 'evangelical' has become almost meaningless this year, and in many ways the word itself is at the moment subverting the gospel of Jesus Christ."
In a recent USA Today article, reporter Alan Gomez highlights the broad support for immigration reform including among the evangelical faith community.
"About 300 conservatives from around the country and with varying backgrounds — pastors, farmers, police chiefs, business owners — will arrive in Washington on Oct. 28 to meet with Republican lawmakers and make a conservative pitch for a new immigration law," he wrote.
While Gomez's piece effectively captures the strong support for immigration reform among evangelical leaders, among others, it also quotes Roy Beck, executive director of the population-control group NumbersUSA, who says these leaders "don't represent the evangelical rank and file."
Polls and recent grassroots activity show otherwise.