Soka Gakkai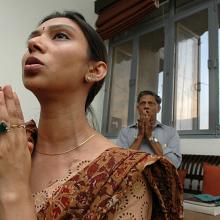 LOS ANGELES -- Even though she met her husband through an arranged marriage, Pooja Sindhwani considers herself a modern woman. She worked in interior design in her native India for four years, and she and her husband spent a year getting to know each other before their wedding. When she followed her husband to Houston, she wasn't worried about adjusting to life in the United States.
"You feel you're going to a country that offers opportunities," Sindhwani said, "you expect that things will work out."
Except when they don't.
Unable to land a job in Houston, Sindhwani slipped into depression. Like thousands of Indian women, she was issued an H-4 "dependent spouse" visa that did not allow her to work.
Sindhwani's husband was a highly skilled foreign worker, sponsored by a U.S. company on an H-1B visa. The Indian women who marry highly skilled workers also tend to be well-educated professionals. Many think it will be easy to transfer from a dependent spouse visa to a work visa.
The constant rejections from companies that couldn't sponsor her work visa took a toll on Sindhwani.