snowstorm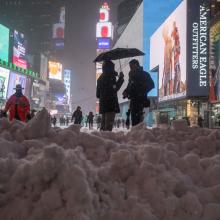 Apocalypse or snowstorm? For a nervous few days, we worried that life as we know it in New York would be undone by a monster blizzard.
As it turned out, we didn't get the feared 36 inches. But as we stood in long grocery lines and planned escape routes from work, we realized that not a single one of us — not even the mega-wealthy and mega-powerful in this mega-city — could control this moment.
For me, a blizzard would have imperiled my scheduled move Upstate on Jan. 29 and my scheduled flight to California next week and ensuing four-week pilgrimage driving east on two-lane roads, plans made over many months.
Now we could see our "control addiction" in action. Some believe control is the ultimate human addiction. Not caused by a chemical or harmful substance, but caused by the grand delusion that we are all-powerful, we are "masters of the universe," as Tom Wolfe put it. Our wealth and our weapons can make life exactly what we want.