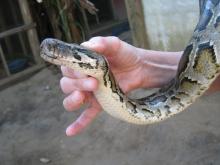 NASHVILLE, Tenn. --- Andrew Hamblin's Facebook page is filled with snippets of his life.

Making a late-night run to Taco Bell. Watching SpongeBob on the couch with his kids. Handling rattlesnakes in church.
Hamblin, 21, pastor of Tabernacle Church of God in LaFollette, Tenn., is part of a new generation of serpent-handling Christians who are revitalizing a century-old faith tradition in Tennessee.
While older serpent handlers were wary of outsiders, these younger believers welcome visitors and use Facebook to promote their often misunderstood — and illegal — version of Christianity. They want to show the beauty and power of their extreme form of spirituality. And they hope eventually to reverse a state ban on handling snakes in church.