smartphone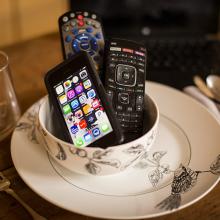 Pope Francis on Nov. 11 urged Catholics to continue the tradition of a family meal, leaving smartphones aside, and switching off the TV to enjoy the "fundamental experience" of sharing food.
"The sharing of a meal — and therefore, other than of food, also of affections, of stories, of events — is a fundamental experience," Francis said during his weekly audience in St. Peter's Square.
Sitting around the table helps measure the health of relationships, the pontiff said: "If in a family there's something that doesn't work, or a hidden wound, at the table it's understood immediately."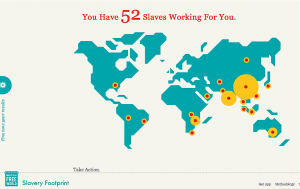 The Slavery Footprint campaign launched Thursday (Sept. 22), which also happened to have been the 149th anniversary of the Emancipation Proclamation, with the goal of personalizing "the issue of modern slavery by providing people with an assessment of just how much their lifestyle depends on forced labor -- and the steps they can immediately take to help end it."
By following this LINK I was able to plug in some basic information about myself and my lifestyle -- where do I live, do I own or rent, how many children do I have, have many diamonds/leather shoes/electronic gizmos do I own, what are my eating habits, what's in my medicine cabinet, etc., -- and in just a few minutes received the upsetting news that, according to the Slavery Footprint campaigns diagnostics, 52 slaves "work for me."