slow down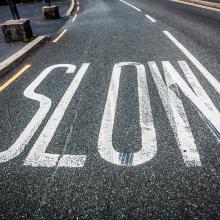 The hum of 24-hour "news" drones on in the background most of my days. I'm not quite sure what television media's version of "Breaking" means anymore, though what accompanies it is closer to this Saturday Night Live spoof than real life.
Something is always "breaking." And someone is always responding. We feel the need to get there first, to offer the most unique point of view, to lend our "expertise," or to speak on behalf of our [fill-in-the-blank]. Organization? Generation? Gender? Or some cross-section of all of the above?
I know. I can definitely be part of the problem, and in this, I attempt my confession — sometimes my judgment fails me and I fall into the trap of the sensationalized newsbyte. I'm the web editor of a publication — meaning, I solicit, edit, sometimes even write some of these responses, of which there are a variety.
We have the "first response." They are those who get there immediately. On television, these might come with the Impact font-ed "Exclusive," or even "First to Report" (gross). Sometimes they just recount the events. Often, they will include — whether by slant storytelling or outright commentary — their reaction to said events.
Then there's the "second-day response." More nuanced, and typically with corrected "facts" that first responders didn't mind repeating ad nauseam the day before, these reports put the events into greater historical context — or at least whatever context the writer could whip together from Wikipedia entries and closest possible "expert." (We have a missing plane? Look, here's a flesh-and-blood PILOT to explain what happened.)
From there, you get the out-and-out commentary. The "here's my take," or "this is whose side I'm on." Rarely unique, though under the constant illusion of specialness, these commentaries attempt to stake out ground for a person or group of people. This happened, here's how it happened, and here's where I [we] stand on it.
Inevitably, you'll then get the response to the response: How dare you stand there! She's missing the whole point of [news-making event].
And on it goes.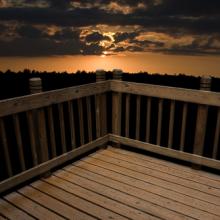 I've often heard that Lent is a season of slowing down. Of drawing closer to God, to others, to the wide open world around us. A time for spiritual reflection and inner examination. An opportunity to go a little deeper in trying to figure out Jesus. A time to pause. A time for simplicity.
This Lent, I decided to get back into biking to and from work (in addition to cold showers and placing a penny in the "Suck it Up or Shut Up" jar each time I catch myself complaining).
When I moved across town in June, I said I'd bike once I found a good route, but I weaseled my way out of it for reasons such as having to bike through some sketchy areas by myself, something I was a bit fearful of.
Now a few days into it, I've found a route and a rhythm. I got off to a rough start the first day of Lent, biking home drenched by the down-pouring rain. Two cars didn't see me, causing me slam on the brakes, skidding in the middle of an intersection. Cars passing by splashed water up against me like a small ocean wave. It was cold. It was dark. And I kept making wrong turns, making my time in the rain even longer. I had a "shake your fist at God" moment, muttering things that warranted pennies in the jar, and then managed to put my sopping wet hand back on the handlebar. I thought about the journey that women in Africa make to and from water wells and firewood piles on a daily basis, often risking the possibility of getting raped just to gather these essentials for their families. Surely, I didn't have it so bad.
And most of us don't.