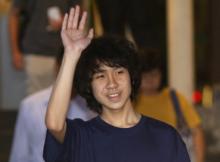 A teenage blogger from Singapore has been found guilty of insulting Christians and of distributing an obscene image of the country's founding father, Lee Kuan Yew, and former British Prime Minister Margaret Thatcher.
Amos Yee, 16, had faced three years in prison, but will be put on probation instead, the Associated Press reported.
He was released on a bail of 10,000 Singapore dollars ($7,400).