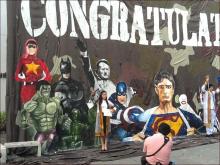 Thailand's most prestigious university apologized to the Simon Wiesenthal Center on Monday for allowing its campus to hang a huge, hand-painted "Congratulations" banner illustrated with Captain America, Batman, and other comic superheroes, topped by Adolf Hitler giving a Nazi victory salute.
The apology came three days after the Simon Wiesenthal Center published on its website a photograph of a female student in a university graduation gown posing in front of the larger-than-life banner with her arm outstretched in a Sieg Heil salute.
"Hitler as a superhero?" asked Rabbi Abraham Cooper, Simon Wiesenthal Center's associate dean, in a statement posted on July 12.