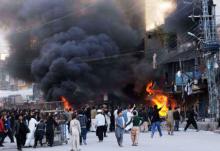 Qadeer Abbasi is recovering from a broken arm in his two-room shanty home not far from the capital, Islamabad.
On Nov. 15, Abbasi, 34, offered noontime Friday prayers at Madrassa Taleem ul Quran when the seminary was attacked by a procession of Shiite mourners. Besides the Sunni madrassa, the Shiites also struck 100 shops, four private banks, and scores of cars.
In less than an hour, 12 people were killed and intense gunfire prevented humanitarian services from ferrying the injured to hospitals.