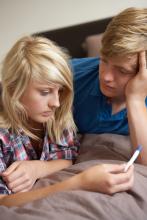 It seems like there's nothing but bad news all around us. Congress can't get anything done, the Middle East is in turmoil, and climate change is making natural disasters worse around the world. But a couple of weeks ago, I went to an event in Washington, D.C., hosted by the National Campaign to Prevent Teen and Unplanned Pregnancies that celebrated a major accomplishment. The teen birth rate and pregnancy rate are both down — and not just by a little bit.
The teen birth rate has plummeted by 52 percent since 1991, while the teen pregnancy rate has fallen by 42 percent. Fewer teen pregnancies mean fewer abortions, less financial strain on families, and more children being born into families that are ready to have a child.
This news came as a surprise to me, as it did to many. Seventy-four percent of adults incorrectly believe the teen pregnancy rate has increased or stayed the same. Fewer teens have gotten pregnant do to a combination of waiting to have sex until later and being more educated about the proper way to use contraception. This news doesn't fit the current narrative that millennials and young people don't take personal responsibility for their lives and choices.
This success is yet another example of what government, the private sector and faith community, and families can accomplish when they work together.