series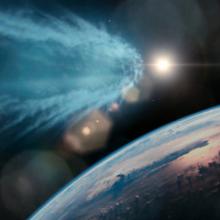 Many viewers may be hoping that Cosmos: A Spacetime Odyssey lives up to the original series created by astronomer Carl Sagan 35 years ago.
But no one will watch the program, airing Sunday on Fox, with greater anticipation than nonbelievers — atheists, agnostics, humanists, and other "nones."
Among this group, many credit Sagan and the original Cosmos with instilling in them skepticism of the supernatural and a sense of wonder about the universe. Both, they say, encouraged their rejection of institutional religion.
Humanists are especially eager. They claim Sagan as their own, and see in the Cosmos series — a multipart journey to the outer reaches of our universe — and in his dozen books a vibrant strain of their own philosophy. That philosophy favors reason over religion and holds human beings as both good and responsible for the Earth's plight.
This Christmas, for the spirituality-and-pop-culture enthusiasts on your gifting list, consider the following: Be kind and rewind.
Give them the gift that keeps on giving ... long after the series has been cancelled.
Rev. The Vicar of Dibley. Saving Grace. Davey and Goliath. Pushing Daisies. Six Feet Under. The Book of Daniel. Lie to me. Lost. And Northern Exposure.