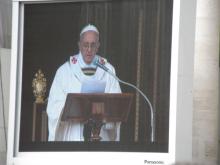 Pope Francis on Thursday told world leaders gathered in Russia for the G-20 summit that a military intervention in Syria would be "futile," urging them to focus instead on dialogue and reconciliation to bring peace to the war-torn country.
The Argentine pontiff's first major foray onto the global stage comes as the U.S. Congress prepares to vote on a military strike against Syria in response to a reported chemical weapons attack outside Damascus on Aug. 21.
For Francis, just six months on the job, the Syria question will test his ability to summon the power of his global bully pulpit and could play a major role in shaping the global image of a man who's drawn more attention for his down-to-earth pastoral appeal.