senate plan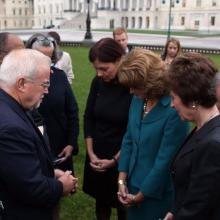 During a sunrise vigil at the U.S. Capitol this morning, three senators unexpectedly joined us. They were all women, all Republican and, it turns out, all Catholic. Sens. Susan Collins of Maine, Lisa Murkowski of Alaska, and Kelly Ayotte of New Hampshire are part of a new 14-senator bipartisan, women-led group engaged in their own kind of vigil: trying to end the government shutdown and prevent the nation from going into debt default.
A chuckling comment from a male colleague in the Senate perhaps expresses a hope in the midst of this incredibly dangerous political crisis: "The women are taking over." This morning, the senators walked over to thank us for praying for them and the government at this critical moment and told us how much they felt the need for our prayers right now. The looks on their faces showed us the seriousness of their plea for prayers.
People of faith are instructed to pray for their political leaders, and their need has never been more evident in this completely dysfunctional Capitol City. For the seventh day now, faith leaders, pastors, young people, and passersby lifted up prayers for the common good across from the Capitol. Until this morning, there was no response from our elected officials or the national media pundits.
But the #FaithfulFilibuster has taken off across the country through word of mouth and social media — our prayers are trending.