seminarians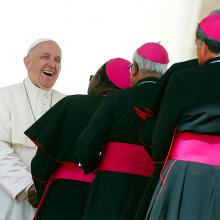 Pope Francis told a group of recently appointed bishops that the world "is tired of charming liars" and that they should embody mercy in their dioceses and not be whiners who promote their own "vain crusades."
The pontiff also told them to be wary of seminarians "who take refuge in rigidity" of practices. "There's always something ugly behind it," he said.
Francis made his remarks Sept. 16 in a speech to newly appointed bishops who have been taking part in an annual Vatican orientation course on their new job.
John Stott died this Wednesday. He was 90 years old. What many people don't understand is that he was the most influential 20th-century evangelical leader in the world, with the exception of Billy Graham. Stott became the Anglican rector of All Souls Church in downtown London at the age of 29 in 1950, and he stayed there for his entire ministry. But from his parish at Langham Place in the city's West End, and right across from BBC headquarters, John Stott spoke to the world with 50 books that sold 8 million copies. He also traveled the globe , speaking, teaching, convening, mentoring, and bird watching -- a personal passion.
Perhaps the most telling thing about this man is all the personal stories about "Uncle John" that the world is now hearing, from many Christian leaders around the world who were profoundly influenced, encouraged, and supported by John Stott. And secondly, how such a giant in the Christian world remained so humble, as testified to by those who knew him who say how "Christ-like" he was.