secular humanists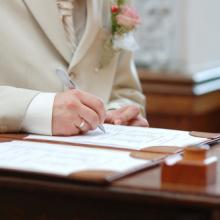 A federal court in Indiana has rejected atheists' requests to preside at wedding ceremonies, saying only clergy or public officials are licensed to solemnize marriages.
A lawsuit filed by the Indiana chapter of the Center for Inquiry argued that an Indiana law that requires marriages to be "solemnized" — made official by signing a marriage license — only by clergy, judges, mayors or local government clerks violates the Constitution.
But Judge Sarah Evans Barker of the U.S. District Court for the Southern District of Indiana ruled on Nov. 30 that marriage has religious roots. Therefore, government regulation of marriage is an act of religious accommodation — not endorsement — and protected by the Constitution.