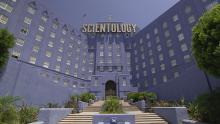 The only murky thing in Going Clear: Scientology and the Prison of Belief, HBO's scathing new documentary is: What will happen to the church that sci-fi writer L. Ron Hubbard built more than 50 years ago after it airs?
The two-hour film directed by Academy Award-winning director Alex Gibney is a merciless examination of the Church of Scientology, the religion/business/self-help empire created by Hubbard, who died in 1986. The film, which airs March 29 on HBO, alleges the church has practiced physical, psychological, and financial abuse of its current and former members for decades.
And while the film is based on Pulitzer Prize-winning journalist Lawrence Wright's 2013 book with an almost identical title, the film manages something the book could not — it allows viewers to look into the eyes of former Scientologists as they describe years of abuse they say they suffered willingly at the hands of the church and the ultimate toll it took: lost relationships, broken lives, empty bank accounts, and more.
The film is so unsparing — particularly in its portrait of David Miscavige, who became the church's "ecclesiastical leader" after Hubbard's death and reportedly rules it like a tyrant — that the filmmakers and others who study Scientology say they hope it will prompt internal changes and greater transparency in the church, something it has resisted in the past.