sam phillips
This world is so beautiful
For no reason at all
When life circles around
And you can't see straight
– from "Can't See Straight" by Sam Phillips
"Push Any Button," the first new physical album in five years from singer-songwriter Sam Phillips, is a blithe, fetching exploration of life's flip side — after the flush of youth, after the heartbreak, after the bottom falls out and the road bends and you head in a wholly unexpected direction that turns out to be exactly where you need to be.
"Push Any Button," which dropped Aug. 13, looks to the future by examining the past, viewing both through a lens of stubborn (and optimistic) grace.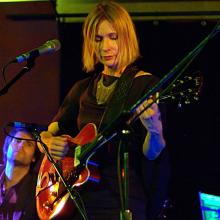 Sam Phillips is achingly honest.
Whether she's singing about relationships — with loved ones, the world or God — politics, art, the church, Aimee Semple McPherson or Christmastime, you can count on Sam to bring her singularly pure voice and the truth. She is true blue (and one of her favorite guitars is as red and shiny as RudolfOn her new album, Solid State: Songs from the Long Play, Sam has two songs that have quickly become new favorite Christmas tunes for me. One is explicitly about Christmas, and the other is not, but both speak eloquently (and truthfully) about the mystery and melancholy that the season brings to many of us.
In "It Doesn't Feel Like Christmas," Sam talks about missing someone special during the holidays. The lyrics are sad, her voice is sweet, and the juxtaposition of the two strikes a deep chord in my heart. True. Difficult. Beautiful.