safe, legal, and rare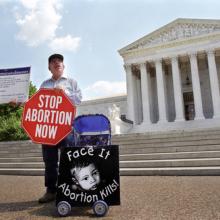 Even before rogue abortionist Kermit Gosnell was convicted in Philadelphia on Monday of delivering and then killing late-term infants, abortion opponents were convinced they had a case that could reshape an abortion debate that has remained static over the years.
After the verdict, they were even more confident.
"Dr. Gosnell is only the front man; and the real trial has only just begun. The defendant is the abortion license in America," Robert P. George, a Princeton law professor and leading conservative activist, wrote after a jury convicted Gosnell of three counts of first-degree murder for snipping the spines of babies after botched abortions.
Gosnell, who could face the death penalty, was also found guilty of involuntary manslaughter in the death of a 41-year-old patient who sought an abortion at the squalid West Philadelphia clinic that prosecutors labeled a "house of horrors."
Yet the fervent prayers for a game-changing impact from the Gosnell conviction may go unanswered for a variety of reasons.