Ryan Cragun
What was supposed to be a touchy-feely, one-on-one interview by Oprah Winfrey with long-distance swimmer Diana Nyad has morphed into a broader, sometimes angry exchange about what it means to be an atheist.
Earlier this month Winfrey, 59, hosted Nyad on "Super Soul Sunday," her weekly talk program on cable's Oprah Winfrey Network. Nyad, 64, recently completed a 53-hour solo swim from Cuba to Florida.
During the hourlong segment, Nyad declared herself an atheist.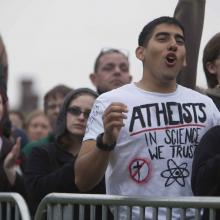 Nearly half of all Americans — 48 percent — say the growing number of nonreligious people is "bad for society," according to a poll conducted by the Pew Forum on Religion and Public Life.
But about the same amount — 50 percent — say the rise in nonreligious people is either a good thing (39 percent), or doesn't matter (11 percent).
The findings flesh out last year's Pew Forum survey on the "nones," the one in five Americans who report no formal religious affiliation. But the results also illustrate the divided reactions to this trend between those who are religious and those who are not.