Roman Catholic Cardinal Gabriel Zubeir Wako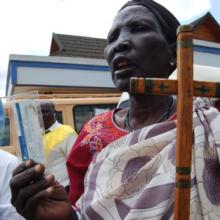 For Christians living in predominantly Muslim Sudan, travel restrictions are making life more difficult each day, a Roman Catholic cardinal said.
Sudanese Cardinal Gabriel Zubeir Wako highlighted the challenges at a Catholic Bishops Conference in Juba, the Republic of South Sudan's capital. His auxiliary bishop could not attend the Jan. 21-30 meeting because his passport was seized by security agents, along with those of eight priests.
"Christians in the two countries are facing difficulties," Wako told the gathering. "We [bishops] must focus on serious matters and come up with strong messages."