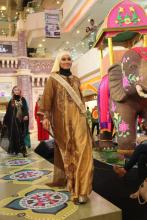 After hardline Islamists voiced opposition to the Miss World contest now being staged in Muslim-majority Indonesia, a rival World Muslimah beauty contest exclusively for Muslim women will announce its winner on Wednesday in the capital of Jakarta, though the U.S. candidate suddenly dropped out.
"Muslimah World is a beauty pageant, but the requirements are very different from Miss World," the pageant's founder Eka Shanti told Agence France-Presse.
"You have to be pious, be a positive role model and show how you balance a life of spirituality in today's modernized world," she said.