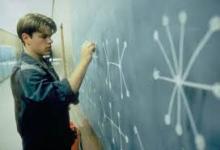 It probably can't. It may help you ponder the kind of person you hope to become, and it might even help you orient yourself towards the next few baby steps you take in this life, but decide what you want to do with your life? Not likely. None of us ever really decides 'what to do with our lives,' as if that were some golden tablet plucked out of the heavens. But that won't stop us from frantically stressing.
As a recent college graduate who does indeed stress about such a question, I recently rediscovered the modern classic that is Good Will Hunting as I spent Thanksgiving anxiously deliberating my future — and realized it has a lot to offer.
Although the film is perhaps most famous for pulling heart strings, it is also a deep exploration of courage and humility. It forces viewers to question their vocational priorities and even invites reflection upon why we choose to seek, or avoid, outward success. If you haven't seen this 1997 drama, and you're stressed about what to do with your life, you should stop reading now and go watch it before I start dropping spoilers.