RNA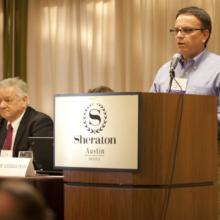 The Christian mission field "is a magnet" for sex abusers, Boz Tchividjian, a Liberty University law professor who investigates abuse said Thursday to a room of journalists.
While comparing evangelicals to Catholics on abuse response, "I think we are worse," he said at the Religion Newswriters Association conference. But it's harder to track.
"Protestants can be very arrogant when pointing to Catholics," said Tchividjian, a grandson of evangelist Billy Graham and executive director of Godly Response to Abuse in the Christian Environment (GRACE), which has investigated sex abuse allegations.
In mid-December, the Religion Newswriters Association released its top 10 religion stories of the year.
The Associated Press now has its annual poll of U.S. editors and news directors and their choices for the top news stories of 2011.
Since this exercise is certainly a subjective one, your list might also be different from mine or the AP's. What would you add or delete from these lists?