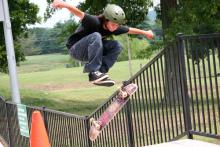 This past Saturday, on a brilliant fall morning, my eight-year-old son came bounding downstairs for breakfast. I reached into the refrigerator, grabbed a cold Diet Mountain Dew from in between glass-bottled organic milk and tomato juice, and served it to him with farm-fresh eggs, feeling the part of a drug dealer.
We had a long day ahead, and I wanted to see what happened.
I smiled to myself, imagining some upcoming event, the mothers' conversation all about peanut-free this and local that, when I'd pipe above the crowd to say, Hey sweetheart, how about your Mountain Dew?
The arrival of Diet Mountain Dew in my house is only the first in a cascade of little experiments we are now undertaking as a result of neuropsychological testing in August indicating that my son has a form of attention deficit hyperactivity disorder. Our house has never lacked order or discipline, and yet now we are thinking about how to structure everything more explicitly.
Diet Mountain Dew, with its massive amounts of caffeine, is our initial effort in our goal of avoiding, for now, giving him any stimulant medications: Did you know that caffeine actually calms down a hyperactive person, allowing them to focus? Maybe that's why I've drunk eight cups of coffee every day since around 1985.
I tried the coffee with my son first, hoping I could cultivate a new bond with him over a shared habit. He detested the stuff. You could always give him Red Bull, one of my brothers said. I couldn't bring myself to do that, hence the Diet Mountain Dew.