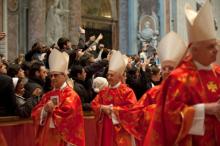 The Vatican on Monday moved to quash speculation that at least two women would be among the cardinals that Pope Francis will name in February, saying such a move was "not a realistic possibility."
Over the weekend, Irish media reported that Francis could name Linda Hogan and Mary McAleese as cardinals. Both are associated with Trinity College in Dublin: Hogan as a professor of ecumenism, and McAleese, the former president of Ireland, as a former professor.
Some Italian media that carried the story speculated that Cecile Kyenge, the Congo-born Italian minister of integration, could be a candidate as well. Kyenge is a devout Catholic and a graduate of the Catholic University of the Sacred Heart in Milan.