Rev. Benedict Groeschel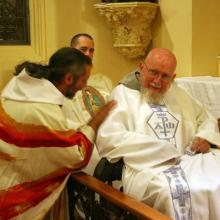 The Rev. Benedict Groeschel, a well-known Catholic author and television personality, has given up his longtime spot on the conservative cable network EWTN following comments in which he appeared to defend clergy who abuse children while blaming some victims.
"Father Benedict has led a life of tremendous compassion and service to others and his spiritual insights have been a great gift to the EWTN family for many years. We are profoundly grateful to him and assure him of our prayers," Michael P. Warsaw, head of EWTN Global Catholic Network said in announcing Groeschel's decision to step down.
In his statement on Monday Warsaw also asked EWTN viewers "to pray for all those who have been affected by this painful situation and in particular those who have been victims of sexual abuse."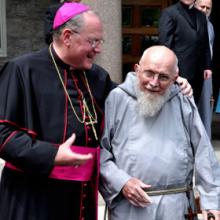 The Rev. Benedict Groeschel, whose comments defending priests who sexually abuse children sparked a firestorm of controversy (see related story here), on Thursday evening apologized for the remarks. Groeschel had said that priests who sexually abuse children "on their first offense" should not go to jail and added that in "a lot of cases," the child is "the seducer."
The religious community he founded, the Franciscan Friars of the Renewal, based in New York, also denounced the comments. The statements followed a wave of condemnation that grew in the days since the interview with Groeschel was first published.