Resurrection Sunday
Something has gone awry in our culture when we begin to tell the Resurrection story from a narrative of "The Good Guy Wins." We love seeing the good guys kick ass. We celebrate rugged heroes like Jack Bauer from the hit TV show 24, even when they kill. So steeped are we in what Walter Wink calls, "the myth of redemptive violence," we have subsumed the Easter story into this framework.
In cultures where Christianity has become the dominant power, the resurrection of Jesus has been turned into the triumph of the victors. The way "Jesus is Risen" is proclaimed, it sounds like bragging — essentially one-upping those who disagree with us by saying smugly: we win. Easter is used as a trump card to threaten people into joining our side, because we are the side of the victors. Again and again, the church tries to grow by dominating: passing laws discriminating others, fighting legal battles in the courts, using money and clout to sway people into a certain ideology. Easter celebrations at megachurches get bigger and jazzier every year. We are like the disciples who just don't get it. We argue and argue over which among us is the greatest.
We need to figure out how to tell a different story.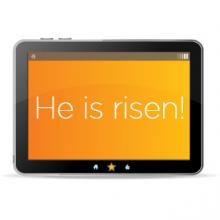 No doubt that Resurrection Sunday (or otherwise known to the masses as Easter) is one of the most significant events and Sundays for the Church. While it wouldn't be wise to reduce the totality of God's narrative to one event, the death and resurrection of Christ is undoubtedly, crucial. Our faith and the credibility of the Gospel hinges upon the historicity and veracity of the resurrection of Christ.
The Apostle Paul articulates this truth succinctly and powerfully:
"And if Christ has not been raised, then all our preaching is useless, and your faith is useless." – 1 Corinthians 15:14
For this reason, Easter is often referred to as the Super Bowl for Christian churches.
As expected, a great amount of time, energy, ideas, and resources are invested into this weekend. And I get it. And I agree with it – in part.