resentment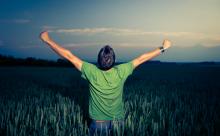 Reflections on the Common Lectionary, Cycle C
When I was growing up, there was a house down the street from us which had slightly tattered window coverings and the front lawn was like a graveyard of broken things. Posted on the fence was a "No trespassing" sign. I remember asking my mother what trespassing was so I could be certain not to do it to anyone who lived in that weird house. When she explained that it meant going into their yard uninvited I thought, no problem. Soon after that, when I first learned the Lord's Prayer, I thought it was weird that out of all the sins that Jesus would suggest we ask God to forgive it would be our trespassing. I pretty much made it a policy to stay out of strange yards, and since no one seemed to wander into ours uninvited, I thought I was covered. Only later did I realize that trespassing was only one of countless was to trespass against others. And now I get it -- kind of. Forgive us our sins as we forgive those who sin against us. Jesus always seems to be pairing God's forgiveness of us with our forgiveness of others.
I hate war. I do not hate it because people die. Death is inescapable. And believers believe that we will meet those we love again in heaven. I hate war with a perfect hatred because it causes suffering and robs the world of incalculable human possibilities. It pains the earth. It creates waste and the misallocation of resources.
Saturday, August 6, 30 Americans and eight Afghans were killed when Taliban insurgents shot down a Chinook transport helicopter. The New York Times called it: "the deadliest day for American forces in the nearly decade-long war in Afghanistan."