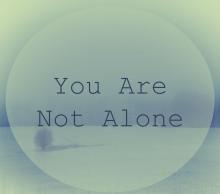 If you're on social media and have a certain number of contacts of childbearing age, chances are good that there are times when it seems that every other post is announcing a pregnancy, the results of a gender-revealing ultrasound, or a birth.
Chances are also good that you don't see many status updates about infertility, about the difficult "two-week wait" between ovulation and the time that a home test can announce an early pregnancy — or a woman's monthly period can let her know that her wait isn't over.
This week — April 19-25 — is National Infertility Awareness Week. For 2015, the theme is "You Are Not Alone."
That's an important message for people struggling with infertility.
"It's a very private struggle," one woman told me. "It's a struggle not many people are privy to, so you put on a smile and act like all is well when really you're in a constant state of grief."
"It isn't only about the second bedroom remaining empty or the ache of your empty arms when you see a friend cradling her newborn. Our culture — from our tax policies to our churches — revolve[s] around families with children. When people experience infertility, they grieve what's missing from their personal lives and are also shut out from the social experience of parenthood," says Ellen Painter Dollar, a writer who focuses on reproductive health and ethics.
Yet infertility affects more people than you might think: 1 in 8 — 7.4 million — U.S. women of childbearing age have trouble getting pregnant or sustaining a pregnancy to term. Infertility — defined clinically in male-female couples who don't become pregnant after a year of unprotected sexual intercourse — is caused by many different factors and confluences of factors. Sometimes, perhaps as much as a third of the time, no identifiable cause can be found.