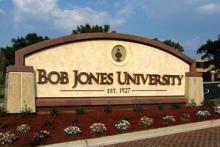 Rolling Stone is not the only one throwing sexual abuse victims under the bus these days. An alarming report released today reveals that Bob Jones University, a historically fundamentalist Christian college, failed to support nearly 40 victims of sexual abuse over four decades.
In January 2013, Bob Jones University hired GRACE (Godly Response to Abuse in the Christian Environment) to conduct an independent investigation of the college's response to sexual abuse allegations.
The report states that BJU officials were not adequately prepared or trained to counsel victims appropriately, often treating victims as blameworthy for their abuse or sexual assault experienced during childhood or adulthood.
In a video statement recorded yesterday, BJU President Steve Pettit issued an apology to students and faculty:
On behalf of Bob Jones University, I would like to sincerely and humbly apologize to those who felt they did not receive from us genuine love, compassion, understanding, and support after suffering sexual abuse or assault. We did not live up to their expectations. We failed to uphold and honor our own core values. We are deeply saddened to hear that we added to their pain and suffering.