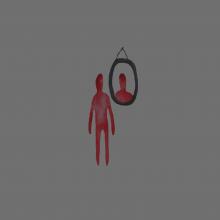 "Christ agrees to die so that mankind will live," wrote Girard in his book Things Hidden Since the Foundation of the World.
Many progressive Christians who do not know Girard's work will bristle at that statement. Indeed, without reading his books, it could sound like a form of penal substitutionary atonement theory that claims Jesus allows humanity to live by saving us from the violent wrath of God.
But nothing could be further from the truth. The truth that Girard revealed throughout his career is that wrath doesn't belong to God. It belongs solely to humans. In anthropological terms, what was revealed by the death of Jesus was the human scapegoat mechanism. Once you read Girard's works, you realize how obvious it is that the violence at the cross had nothing to do with God, but everything to do with the human propensity to scapegoat.
If Girard taught us anything, it's that humans have been projecting our own violence onto God since the foundation of the world. We justify our violence and hatred against our scapegoats in the name of God or peace or justice, or whatever we deem to be important to our well-being.