relationship with food
It's odd that Christians — people who claim to believe that God created the earth, sustains it day by day, and intends to create a new earth — are often so mixed up about sex and food. How long would the earth's inhabitants last without coupling and eating?
And yet most Christian writers right up to the 16th century praised celibacy, sexless marriages, and arduous fasting. Bless Martin Luther for loving his wife (and the beer she brewed), but lots of us still seem to think that good sex and good food — if not actually sinful — are at least pretty low on the religious values hierarchy.

Has it escaped our attention that, according to our most sacred literature, God made a naked male and a naked female, put them in the midst of grain fields and orchards, and told them to multiply?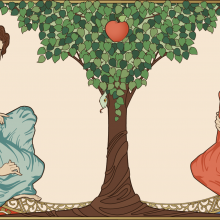 If we're going to talk about food, we need to start with theology. Before chocolate was invented, a snake put "sinfully delicious" and "decadent" on the menu. Somebody fell for the marketing ploy, and we've had a complicated relationship with food ever since.
We've also had a complicated relationship with sex, and with siblings, and with weapons of mass destruction. It's all there in Genesis (where the WMDs are swords). And pretty soon, right-thinking people started coming up with rules to keep people from doing bad things. You can have sex with this person but not that one. You really shouldn't deceive, sell, or kill your brother. Beat your swords into plowshares.
The rules helped to restrain bad guys, and they gave would-be good guys some helpful pointers. Still, there were plenty of bad guys to go around, and good guys could get pretty anal about what other people should or shouldn't do. Anyway, it's obvious that you don't create a good marriage simply by avoiding sex with the wrong person, and you don't have a pleasant Thanksgiving dinner simply by not killing your siblings, and you don't banish war simply by wiping out as many weapons as possible. The rules are helpful — adultery, fratricide, and genocide are really bad ideas —but if you want a Peaceable Kingdom, you're going to need more than rules.