(RED)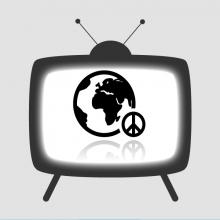 I didn't expect to get hit on during Super Bowl XLVIII.
I mean, I was expecting the usual stuff — the testosterone-fueled web hosting pitch, the adorable animals selling beer – but this was shameless. Someone really did their homework, because company after company turned up with things I like to hear: healthy families; cute biracial kids; a nation of immigrants; a thriving main street; victory for the marginalized; solving the world's most pressing social ills. Check, check-check.
Progressive values, you are currently the it-girl for advertisement pickup artists. Enjoy it?
I, for one, do not.
Don't get me wrong, commercials that celebrate our society as diverse and affirming are far more appealing than the advertising tropes we're used to. But they also veil or flat-out misrepresent the structures and practices of the companies telling them. Without a significant shift towards justice on the part of these companies themselves, their social good stories shouldn't charm us — they probably should leave us with a bad taste in our mouths.
I don't know how I feel about liberalism or capitalism beyond the degree to which I participate in both by necessity. But I do know what I perceive as the source of my activism and Bono's: Jesus and the Bible; spirituality and scripture; the new commandments of radical love and service taught by the carpenter from Nazareth. What's been called the preferential option for the poor. Bono's lack of economic literacy, or worse, allegiance to wrong-headed economic mentors, may make me and others uncomfortable and may play into the hands of the problem-creators rather than the problem-solvers, yet Bono's Biblical, musical, and poetic literacy remain on target in my eyes and heart.
In 2005 just after How To Dismantle An Atomic Bomb, as much as I loved that record and the subsequent Vertigo tour, part of me wanted to give up on Bono for his self-imposed public silence on the Iraq War, for hanging so intimately with people like George Bush and my then least favorite Tennessean Bill Frist. That year, I picked up Bono: In Conversation with Michka Assayas. Not only does the front man answer all his critics in a nuanced manner, he diminishes and self-deprecates his own significance. The alleged egomaniac also has a streak of deep and deferential humility.
But more than that, he speaks ever so elegantly and evangelically about his faith in Jesus and how Christian religious perspective, spiritual practice, and central Gospel narrative inform everything he does. Like Bono, I am no economist, but also like Bono, I take seriously the Biblical teachings about poverty and justice.