rebuked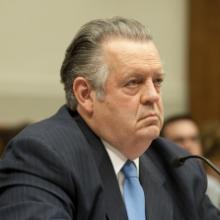 A top Southern Baptist official who was accused of plagiarism in a radio segment that claimed civil rights leaders and President Obama used the Trayvon Martin case to stir racial tensions will lose his weekly call-in program but can keep his main job, a church panel announced Friday.
Richard Land, the influential head of the Southern Baptist Convention's Ethics & Religious Liberty Commission and the denomination's top policy spokesman, was rebuked for racial insensitivity and for not attributing the source of his radio commentaries after a review by ERLC trustees.
The controversy over Land's explosive remarks in a March 31 radio program was especially awkward as Southern Baptists are expected to elect an African-American pastor, the Rev. Fred Luter, as the denomination's first black president later this month.
The investigators chided Land for "his hurtful, irresponsible, insensitive, and racially charged words" in a broadcast of the "Richard Land Live!" show in which Land accused Obama and black civil rights activists of using the Trayvon Martin shooting to foment racial strife and boost the president's re-election chances.