rare disorders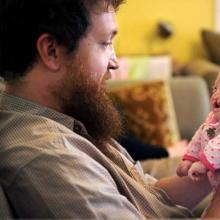 NASHVILLE, Tenn. -- Eric and Ruth Brown believe nothing about daughter Pearl Joy's life is a mistake.
They say God gave Pearl her bright red hair and wide blue eyes, as well as the genetic disorder that created a cleft in her upper lip and caused her brain's development to stall in the first weeks in the womb.
"Things didn't go wrong," Eric Brown said. "God has designed Pearl the way he wanted, for his glory and our good."
That belief has sustained the Browns during the past six months, ever since a routine ultrasound revealed that the couple's third child has alobar holoprosencephaly, a rare genetic condition that's almost always fatal. A specialist told the Browns she would probably die in the womb and advised them to end the pregnancy early.
It's one thing to talk about God's will when life is good. It's another when a doctor is saying your baby won't live.
The Browns were forced to consider religious, medical and ethical issues most parents never will. And nobody could make their decision for them.
The Browns never considered abortion. They believe that Pearl is "fearfully and wonderfully made," as Psalm 139 puts it, and God alone should decide when she lives and when she dies.
Seeing Pearl's beating heart on the ultrasound also persuaded them to continue the pregnancy, even if the odds were stacked against her.
"If there is a chance, you say yes to that chance," Eric Brown said. "The only thing I know about parenting is that you say yes."
So far, Pearl has beaten the odds.
Few babies with Pearl's disorder make it to term, and of those who do, only 3 percent survive birth, according to the Dallas-based Carter Centers for Brain Research in Holoprosencephaly and Related Malformations. Pearl has a particularly severe form of the condition, which means her brain never divided into two hemispheres.
She turned 11 weeks old Oct. 12, a milestone that the Browns celebrated by lighting 11 candles and singing "Happy Birthday."