rain
For our brothers and sisters on the East Coast, in the path of the storm they call "Sandy," I've put together a little music for you to help pass the time. Sending you prayers of protection, peace, and grace (and, I hope, more than a bit of musical joy and solace) from the shores of the Pacific here in California at the SoJo West office.
Inside the blog, there are 30 videos. For those of you with power (and an Internet connection), I hope it helps pass the time and maybe even gets you to get up and dance a little in your living rooms.
Here's the song and video the playlist begins with: "No Storms Come" by our Sojo friends, The Innocence Mission: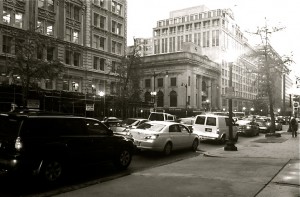 It took us a solid hour to travel six miles down New York Avenue, then another thirty minutes to get through the 3rd Street tunnel. The children were thirsty. More than once I considered turning around and heading home, though by that point it would have taken just as long to get home as to get where we were going.
And all along the way I rehearsed to myself the arguments of the Free Range Kids / Last Child in the Woods crowd. My husband and I like to think we have a mellow style of child rearing, more focused on moral development and kindness than in developing the "Super People" described in James Atlas' essay in the October 2 New York Times.
I was becoming the stereotype I decried -- schlepping children to lessons at the great cost of time and calm. Couldn't they just run around outside the house?