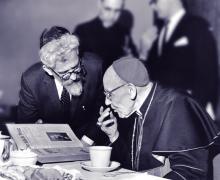 A statement by a group of Orthodox rabbis calls Christianity part of a divine plan in which God would have Jews and Christians work together to redeem the world.
Although signed so far by 28 rabbis mostly from the more liberal wing of the most traditional branch of Judaism, the statement marks a turning point for Orthodox Jews, who until now have limited interfaith cooperation to working on social, economic and political causes. But this statement puts Christianity in a distinct Jewish theological perspective — and an extremely positive one.
"(W)e acknowledge that Christianity is neither an accident nor an error, but the willed divine outcome and gift to the nations," the seven-paragraph statement, issued on Dec. 3, asserts.