Rabbi Rabinowitz
For the first time in its 26-year history, the feminist prayer group Women of the Wall managed to read from a full-sized Torah scroll April 20 after one of its members surreptitiously borrowed one from the Western Wall's men's section.
The scroll's procurement, which was facilitated by the group's male supporters standing on the other side of a partition, was a bold move by a group that has continuously challenged the ultra-Orthodox establishment's sole authority over the holy site.
Rabbi Shmuel Rabinowitz, rabbi of the Western Wall, has long prohibited women from wearing prayer shawls and reading from a Torah. He based his prohibition on a regulation that forbids any religious ceremony "not in accordance with the custom of the holy site and which offends the sensitivities of the worshippers at the place."
Although a 2013 court ruling confirmed Women of the Wall's right to pray at the Wall, Rabinowitz has continued to ban anyone from bringing a Torah into either the men's or women's section and has placed all 100 of the holy site's Torahs in the men's section alone.
Although the group recently smuggled a tiny Torah into the women's section, "you needed a magnifying glass to read it and we had to return it to its owners in London," said Anat Hoffman, WOW's chairwoman.
But on Monday morning, the group's male supporters held a Torah reading service at the Wall, next to the gender partition. Once their service finished, the men opened an unlocked gate leading to the women's section and a female WOW activist stepped into the men's section and picked up the Torah.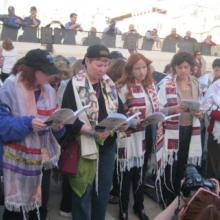 JERUSALEM — The ultra-Orthodox rabbi in charge of the sacred Western Wall assured a government emissary on Thursday that Jewish women will not be arrested if they try to recite the mourner's prayer at the holy site, despite a warning from Israeli police.
Tensions have grown between traditional Jews and reform-minded women over prayers at the Western Wall, which contains the remains of the Temple that was destroyed nearly 2,000 years ago.
Prime Minister Benjamin Netanyahu has tapped Natan Sharansky, chairman of the Jewish Agency, with defusing the conflict and ensuring "that every Jew in the world can pray in the manner that they are accustomed to at Judaism's most important national and religious site," according to a statement issued by the Jewish Agency.