principalities
In scholarship and life, Walter Wink sought the truth with passion.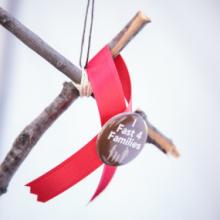 To join Jim Wallis in prayer and fasting, click here.
I was grateful to be at the beginning of the Fast for Families on November 12. Courageous leaders from many communities were making an incredible sacrifice to remind our leaders what is really at stake in the fight for immigration reform. It was an honor to commission the core fasters, such as my Sojourners' colleague Lisa Sharon Harper and Eliseo Medina, a veteran organizer and a disciple of Cesar Chavez, by placing crosses around their necks as they began abstaining from food.
After 22 days, the core fasters had grown weak, nearing the point of medical danger. When they decided to pass the fast to a new group, I was humbled to join the effort this way. On Tuesday, in the shadow of the U.S. Capitol, I received the cross from Eliseo that I had given to him three weeks before.
At Tuesday's ceremony, each of us shared why we were committing to this discipline and willing to subsist only on water for various lengths of time.