practice resurrection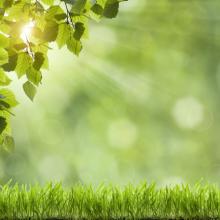 I want to point out three things, regarding Paul's analogy of the fruit of the Spirit.
1. It's not something we can acquire by simply trying harder. Throughout Galatians, Paul dismantles the idea that all God wants is for us to try harder, to do more things, to count on our achievements to gain right standing with God. The fruit of the Spirit comes when the Spirit is living in us.
To state the obvious: if you want an apple, you grow it. You plant the seed, you water it, you care for it, you allow for whatever factors you have no control over — weather, for example — and you trust and hope that, in the right time, the tree will spring up, it will blossom, and it will bear the fruit you're looking for. It takes time and effort, and even then, we have no guarantee of what, where, when, or how something is going to appear.
Have you ever heard someone pray for patience now? It kind of misses the point of what patience is, doesn't it? I definitely think we should be praying for these things, but don't expect them to be just placed in your lap — "Here's the love for your neighbor you requested!" Absolutely, there are times when God pours out a supernatural measure of peace or joy on us, but more often than not, instead of just giving us those things, God gives us opportunities to learn those things — love, joy, gentleness — and he gives us his Holy Spirit to be with us at all times, including those times, and the Spirit brings peace and joy in the midst of those things, so thatwe can cultivate the life framework to sustain it all, to grow a healthy soul, where we learn how to weave body, mind, and spirit into one cohesive whole.