Portrait of Jewish Americans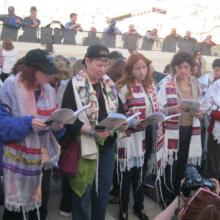 Where once it seemed that uncritical devotion to Israel was the norm for U.S Jews, that Zionism and Judaism were hand-in-glove, new research finds that's not the case today — if it ever was.
The Pew Research Center's newly released, comprehensive Portrait of Jewish Americans not only delved into myriad ways people identify as Jews, it also probed their emotional connection and their theological and political ideas about the Jewish state.
Yoo-hoo! Sarah Silverman, Jon Stewart, Larry David! No matter how unreligious you comics may be, American Jews seem proud to claim you.
Well, mostly. You know the joke: Two Jews, three opinions…
But seriously: A sweeping new survey from the Pew Research Center, "Portrait of Jewish Americans," finds humor is one of the main qualities that four in 10 of the nation's 5.3 million religious and cultural Jews say is essential to their Jewish identity. The survey was released Tuesday.