poor children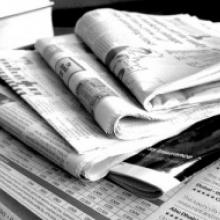 What Are You Getting Baby Jesus For The Holidays? (OPINION); Math Fail: Fox News Says 8.6 Percent Unemployment Is Greater Than 8.8 And Equal To 9; Guardian: What The Top 1 Percent Really Owns; Romney's $10,000 Wager Dominates Post-Debate Buzz; Ben & Jerry Explain Why They Support Occupy Wall Street; Limbaugh Calls Poor Children Receiving Free School Meals "Wanton Little Waifs And Serfs Dependent On The State."
*Warning: SANTA SECRETS AHEAD. Shoo the children.*
In rough economic times such as these, we try extra hard to get the kids in our lives a little something special for Christmas. We may have to tighten our belt to the "painful" notch, but it's worth it for the face you get in return for the Tickle Me Elmo, or the ZuZu pet, or whatever it is this year.
But what about Santa? Does he have a budget? He certainly has a belt, but does it get tightened in harsh (let's not say LEAN) times? Maybe Santa could stand to lose a few…
Well, according to Fred Honerkamp, Old Saint Knick understands your finances.