PINK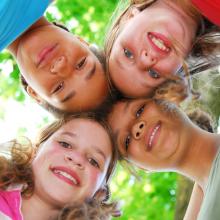 What has made this entire experience special is receiving emails from single dads telling me they are going to use the letter as a jumping off point to have a conversation with their teenage daughters. It's great when a father can express his feelings and concern to his daughter about the way advertisers are targeting a younger demographic. Receiving millions of hits is great, but empowering a father, giving a voice to a dad who is trying to raise children in the 21st century makes it all worth it.
Through all of this I have been shocked and humbled.
I have been amazed of the outpouring of support for people from all walks of life. Numerous people have contacted me and simply say "thank you for standing up for our children." One thing that I have learned through this is that we all have the ability to stand up for what we believe in. The problem that many people have expressed to me that they believed no one would listen.
We all have the potential to speak out for what we believe in and for what we want to stand for. While I might be one person, I sent a message; I spoke up for my daughter and every other young girl.
The power of the voice should not be underestimated even if you believe that you might be the only one speaking. Let us ban together to use our voice as a force of change and justice.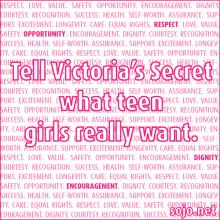 Few companies are as economically successful from their distortion of the sacredness of feminine sexuality as Victoria's Secret. This lingerie company is one of the most recognized brands in America. Their advertising campaigns are on most television stations, their stores in most malls, and their Christmas fashion show is heralded by some as the beginning of the Christmas shopping season. Victoria's Secret's models have become the American cultural archetype for feminine beauty and sexual objectification. Their semi-divine "Angels" campaign has partially nude models in high heels and wings stare longingly look into the audience speaking "tell me that you love me," to the unknown viewer, distorting the image of adult female sexuality and love.
While this campaign has been damaging enough to the sexual image of women, Victoria'a Secret has gone a step further. Earlier this year, Chief Financial Officer Stuart Burgdoerfer of Limited Brands, the parent company of Victoria's Secret, announced a new marketing demographic: teenage and tween girls. Bugedoerfer stated about younger girls: "They want to be older, and they want to be cool like the girl in college, and that's part of the magic of what we do at Pink."
This new "Bright Young Things" line is a corporate declaration that young girls should be sexualized for profit. This line of lingerie and undergarments includes underwear prominently labeled with the phrases "Call Me," "Wild," and "Feeling Lucky." This is not "magic." This is note cute. I am not going to remain silent as Mr. Burgedoerfer, Limited Brands, and Victoria's Secret exploit young women's developing sexual nature for economic gain.