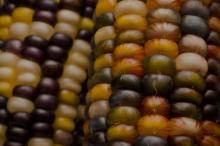 Thanksgiving. That word holds profound meaning for Americans, most of it nostalgic. I remember in grade school when our classes would present Thanksgiving pageants that retold the story of Thanksgiving. We all know it by rote:
The pilgrims were persecuted in England (probably because the men wore buckles on their hats, culottes, and white stockings — who does that?). Anyway, in 1620, they got in a boat and sailed to America, where they met brown people in paper cutout, feathered headdresses and hand-me-down 1970s fringe vests and wrangler jeans. The pilgrims said "Hi!" and the headdress people (called "Indians," for no good reason) said "How!" When the pilgrims realized they didn't know how to cook the food in this "new world," the Indians showed them how to cook cornbread, cranberry sauce, and collard greens (or at least that's how the story went in my school). Turkeys were plentiful in the new world, so when the hat buckle people and the headdress people held a feast in November of 1621 to celebrate their new friendship, a turkey sat at the center of the table.
This is the way modern adults struggle to teach children the foundations of our nation's history. What will it take for us to face our history head on — to face the sinful foundations upon which we stand?